It's time for another edition of Five on Friday and I do hope you'll join along!
Remember, all you have to do is post about five things on your mind, add our logo (found at the bottom of this post), and join the party using the linky tools below. Easy, and a great way to find new blogs and be found. :)
O N E
First things first, I have no shame. I LOVE
CELTIC WOMAN CHRISTMAS
.
And while we are on this topic...
Between the two of those, best $17 you'll spend all season.
T W O
My dad is like, ridiculously hard to shop for, but I searched "beer" on Etsy and found three winning options! I ended up getting him that beer flight holder (I chose the dark walnut stain) which I am REALLY excited about. It came in the mail yesterday and is seriously going to be perfect for him.
T H R E E
Yesterday we did our annual visit to
Black Lion
in Pineville to visit Santa! This was the first year that Camille agreed to sit on his lap -- a total win! I have more photos to share next week but wanted to let any local-ish readers know that this Santa will be at the store TOMORROW from 1-4 doing more free photos with the kiddos. No appointments needed, and it's seriously free with no strings attached. Bring your own camera, but they also take photos for you (like this one below) and email them to you. Bravo for locally-owned stores who do it RIGHT.
F O U R
We are actually on the hunt for two more stockings. I have two basic linen ones already that I plan to have embroidered with the girls' names. My mom made them. Then Ian and I will just get some coordinating stockings. Check out this
adorable stocking
I found on Etsy. Heart eyes for days.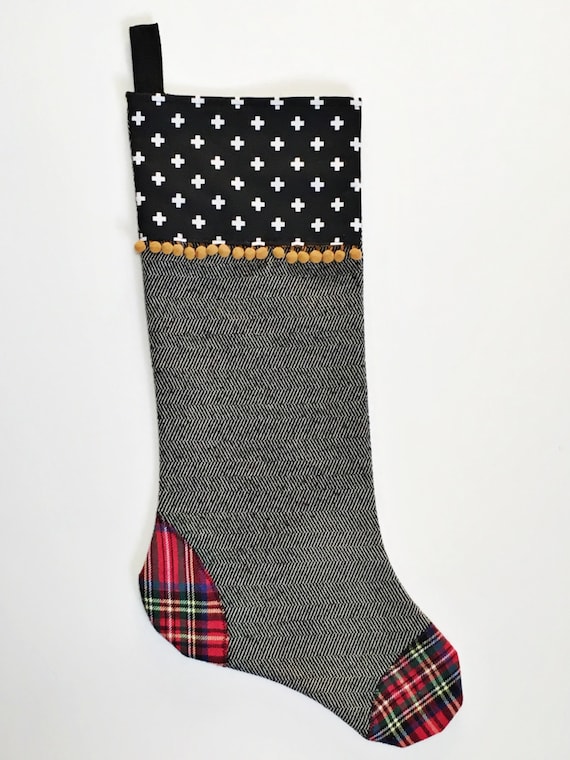 F I V E
Lastly, I know many of you aren't spending money on yourselves this holiday season .... WAIIITTTTTTTT, if you're anything like me, you've already spent too much on yourself this holiday season! Well, I admit that I pulled the trigger on that
embroidered sweatshirt
from Loft on Wednesday. It was 40% off with free shipping. Well, I checked again just now and it is 40% off again with code STYLEEVENT. So, if you loved the look of this sweatshirt (the perfect combo, IMO, of cozy yet flattering) and want to get it for a steal, then go forth and shop. For yourself. It's okay.
TGIF y'all, and hope you will join in on Five on Friday this week! Cheers to the weekend!